By Paul Mamattah
As part of series of activities marking the 187th Speech and Prize Giving Day Celebrations of Wesley Girls' High School, Cape Coast, the 2002-year group of the WGHS Old Girls' Association (WGHS OGA), organized a health walk and games in Accra on the 26th of August 2023.
The programme was organized in collaboration with their male counterparts from the 2002- year group of the Mfantsipim Old Boys Association (MOBA) to improve their health and promote physical fitness among its members.
Members of the MOBA/Gey Hey 2002-year group, converged at the Accra Sports Stadium to embark on the 8.5-kilometer walk.
Participants walked through the principal streets of Accra like Osu Cemetery road, Oxford Street, Danquah Circle, Police Headquarters, Ridge Roundabout and back to the Accra Sports Stadium for aerobics and games.
Addressing the media after the health walk, the President of the 2002-year group of Wesley Girls' High School, Geena Bimpong, emphasized the importance of the holistic well-being of its members, stressing that physical, mental, spiritual, and emotional fitness are crucial.
She expressed excitement about the upcoming 187th Speech and Prize Giving Day to be held in February 2024, which the 2002-year group, has been entrusted with the responsibility of hosting.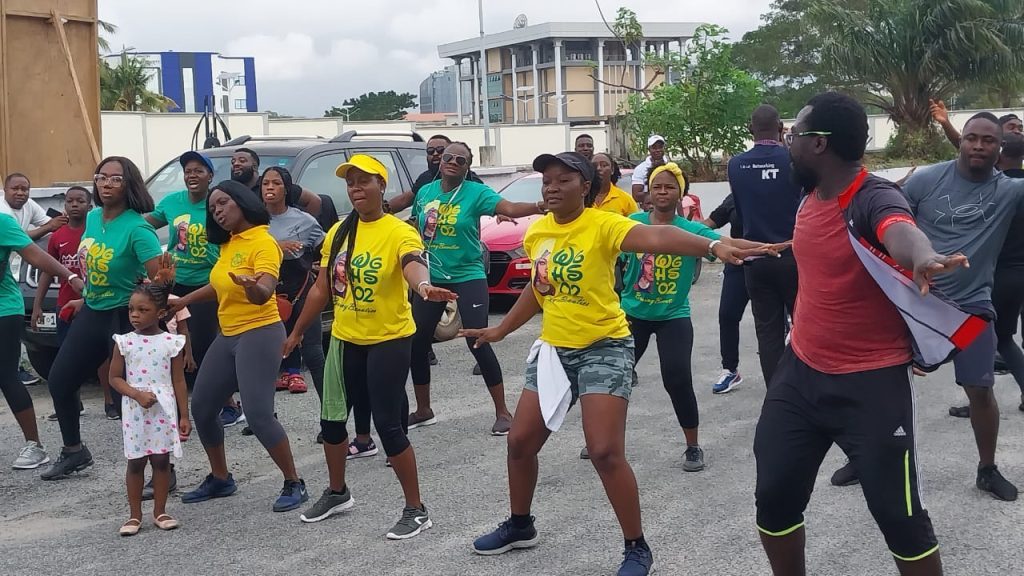 She also stated that a significant part of their efforts involves raising funds towards the completion of the Legacy Project, which is a three-storey multipurpose resource center that aims to serve the needs of both the Teaching and Non-Teaching Staff as well as the students.
This is a testament to the year group's commitment to the growth and development of the school.
She therefore appealed to both the alumni and the public to contribute generously towards the project which is expected to be commissioned during the Speech Day next year.
Geena Bimpong encouraged the current students to strive for excellence in their studies, underscoring the importance of becoming responsible citizens and supporting the school's future endeavors.
The 2002-year group's dedication to fostering a sense of community and their pursuit of educational advancement is sure to leave a lasting impact on Wesley Girls' High School, Cape Coast.
Established in 1836 by Methodist missionaries in Cape Coast, Wesley Girls High School or Wey Gey Hey as it is affectionately known, has consistently maintained high academic and moral standards.
This is very characteristic of the philosophy of the school, which places significant emphasis on producing quality recording breaking results. It is therefore understandable that products of the school exude confidence, control, finesse and good morals, which is very consistent with its motto "Live Pure, Speak True, Right Wrong, Follow the King".