On 4th August of each year since 2019, Ghanaians have been observing Founders' Day to acknowledge the efforts of the founders of the nation.
Initially, it was named Founder's Day and was commemorated on 21st September of each year to celebrate and honor Dr. Kwame Nkrumah whose party, the CPP spearheaded the struggle for independence and became the first President of the Republic of Ghana. "Self Government Now" was his slogan.
Later, it was renamed Founders' Day by the current government to celebrate the contribution of the other members of the Big Six.
They are; Edward Akufo-Addo, Joseph Boakye Danquah, Emmanuel Obetsebi-Lamptey, William Ofori Atta, Ebenezer Ako Adjei. Their slogan was "Self Government in the shortest possible time".
August 4 was chosen because it marks two important events in Ghana's history- It is the date for the formation of the Aborigines' Rights Protection Society by John Mensah Sarbah in 1897, and the formation of the United Gold Coast Convention (UGCC) in 1947.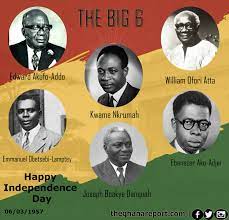 The day is declared a holiday and many Ghanaians use the opportunity to reflect and de-stress. Some go to the beach while others visit other tourist attractions in the country. Still others stay at home and bond with the family.
Mid-Week holidays in Ghana
Although Ghanaians like holidays, many hate it when it falls midweek:Tuesdays-Thursday.
The reason is that it feels so awkward to break and resume work in the course of the week.
The general preference is either a Friday or Monday. In that case people get to enjoy a long break from work.
This year's Founders' Day is being celebrated on a Thursday. The tendency is that many a worker will find one excuse or the other to be absent from work tomorrow.
Happy holiday!