Speaker of Parliament, Alban Bagbin, has returned to the United Arab Emirates for medical review.
In a letter informing President Akufo-Addo about his trip, Mr Bagbin explained that his appointment for a medical review was due on January 7, 2022.
He is expected to return on Sunday, January 23, for parliamentary duties to resume.
The House is expected to reconvene on January 25, for the first meeting of its second session.
Alban Bagbin also informed the President that "prior to the resumption of the House, Parliament intends to undertake a Covid-19 (booster) vaccination exercise for Members of Parliament and Officers of the Parliamentary Service."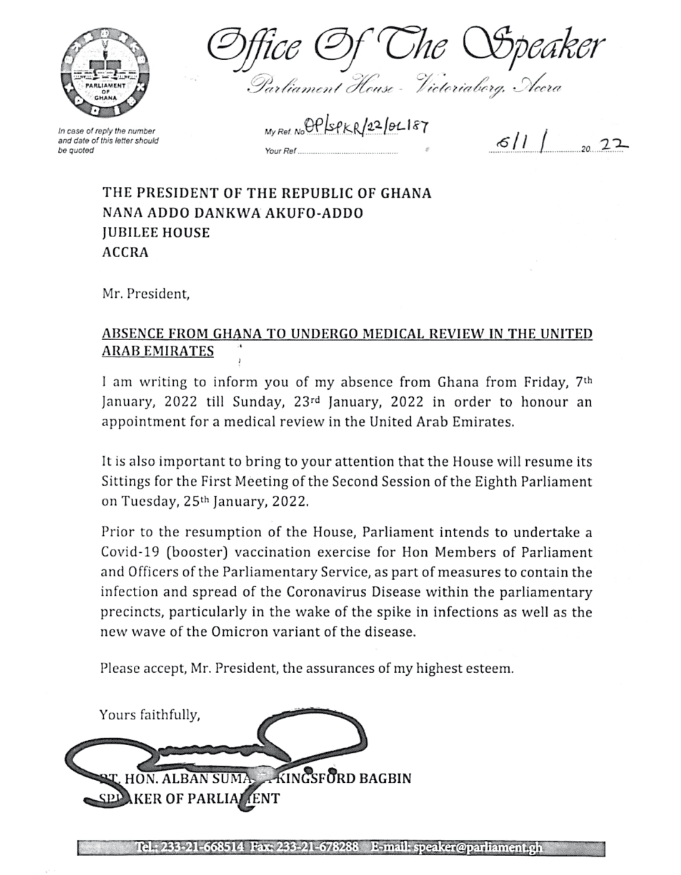 This, he explained formed part of measures to "contain the infection and spread of the Coronavirus Disease within the parliamentary precincts, particularly in the wake of the spike in infections as well as the new wave of the Omicron variant of the disease."
Parliament is expected to resume debate regarding some critical issues bothering on the economy including the controversial 1.75% Electronic Transaction Levy (E-Levy) which has triggered divergent views from both sides of the House.
Minister of State at the Finance Ministry, Charles Adu-Boahen has disclosed that Finance Minster will return to Parliament before the end of this month with the E-Levy to seek the legislature's approval of the tax.
The E-Levy which has become a subject of debate among Ghanaians when approved is expected to rake in a little above ¢6 billion in tax revenue for the country.
"This month [January 2022] we will go back to the floor of Parliament with the E-Levy and ensure that it get pass by the end of the month", he mentioned at the investiture of the newly elected president of the Association of Ghana Industries, Humphrey Anim-Dake.