Alifa Adams, also known as Cassidy, is making a profound impact as the CEO of CMG Consult (Central Migration Grace Consult Ltd), transcending his business role to become a driving force for community development, education enhancement, and the promotion of peace.
At the helm of the esteemed travel and tour consultancy service, Adams's influence goes beyond conventional business boundaries, embodying a commitment to fostering positive change in his beloved hometown of Bawku.
In a remarkable and heartening initiative, Alifa Adams led a comprehensive effort that encompassed various dimensions of community upliftment.
This initiative not only bolstered educational opportunities but also emphasized the importance of peace, unity, and social progress within Bawku.
At the heart of this multifaceted endeavor was the distribution of essential educational resources to schools within the municipality. A distinctive touch was added as each item carried a powerful message, stating:
"Bawku must be recognized once again as the most peaceful and loving people among all ethnic groups in the upper east Region. Let's change Bawku together by preaching peace & bringing social development."
These words served as a rallying cry, underscoring a collective commitment to transforming Bawku into a center of harmony and progress.
The initiative encompassed the distribution of:
– 5,000 pairs of shoes for school-going children, promoting inclusivity and growth.
– 5,000 exercise books, empowering students with tools for educational advancement.
– 5,000 school bags, symbolizing the importance of learning and knowledge.
Going beyond education, Adams extended his support to religious and communal spaces, providing:
– 10 amplifiers with speakers and microphones, enriching mosque prayers with a profound auditory experience.
– 200 prayer mats, enhancing the spiritual atmosphere for local worshippers.
– 200 Jalabia cloths, enabling individuals to engage in prayers with reverence.
– 5,000 tasbia (prayer beads), deepening the connection to spiritual practices.
– 200 shajada (prayer rugs), elevating the act of prayer for many.
Recognizing the significance of basic needs, Adams further contributed:
– 5,000 sets of second-hand clothing, extending a compassionate gesture to those in need.
– 1,000 bags of rice, addressing food security and nourishment.
– 1,060 packs of oil, a fundamental cooking staple for families.
Additionally, Adams acknowledged the importance of hygiene and well-being by providing:
– 1,080 packs of sanitary pads, demonstrating care for women's health and dignity.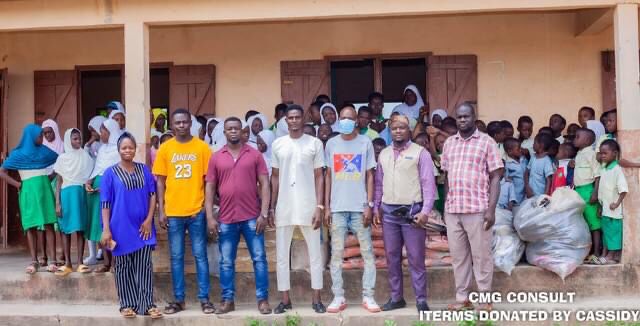 This initiative was brought to life by a dynamic team of local youth, representing Alifa Adams. Their active involvement exemplified unity and collective effort, essential for meaningful community development.
The gesture was met with heartfelt gratitude from Parent-Teacher Associations (PTA), school principals, religious leaders, and the community. This comprehensive effort left a lasting imprint, addressing educational needs, spiritual practices, basic necessities, and the overall growth of the community.
As the CEO of CMG Consult and a compassionate philanthropist, Alifa Adams and his team embody dedication, empathy, and a resolute commitment to driving positive change. This initiative not only strengthens education and community support but also underscores the potential for transformative progress when collective energies converge.
In the midst of Bawku's potential revival, Alifa Adams' multifaceted philanthropic endeavor stands as a beacon of hope, inspiring others to embrace empathy and actively contribute to the betterment of their communities.