The Minority leader Haruna Iddrisu has led some members of his caucus to file an application at the Supreme Court to stop the Ghana Revenue Authority from collecting the controversial E-levy on May 1,2022.
The MPs had earlier filed a writ challenging the quorum that passed the controversial law.
"That since the constitutional validity of the passage of the Electronic Transfer Levy Act, 2022(Act 1075) is the gravamen of our claim before the Honourable Court, it is proper, just, and equitable that the Government of Ghana through the GRA or its officers and agents are restrained from commencing with the implementation of the Levy until the determination of the substantive suit before the Honourable Court," the writ said.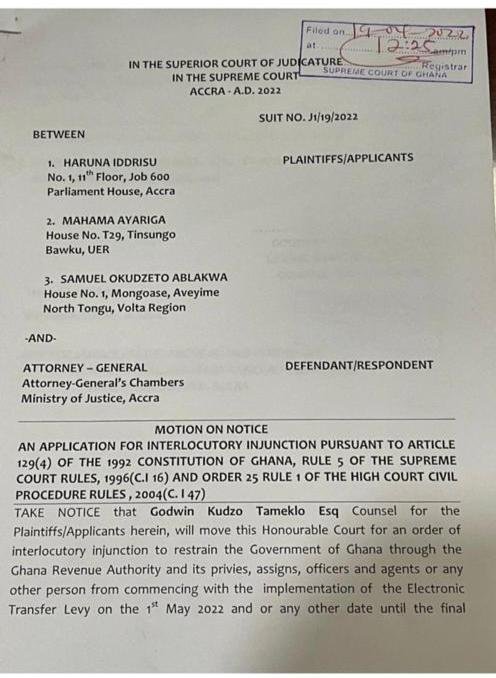 The Minority who walked out during the passage of the E-levy law on March 29, filed a suit at the Supreme Court to prevent President Akufo-Addo from assenting to the bill.
The President has however assented the bill into law with commencement date for collection set for May 1,2022.
The controversial E-levy bill was passed by one sided parliament but the Minority argues based on the recent Supreme Court judgement, the Majority did not have the quorum to pass the bill.
E-levy is expected to increase tax revenue by GHs 6.9 billion (US$1.1 billion) for the government to help reduce the budget deficit. Government after government has struggled with implementing a comprehensive tax regime due to the large informal economy.
Mobile money has provided a platform for bringing the informal sector to formal financial services and that provides a channel to implement a tax regime that reaches almost all its adult citizens, the government said. The potential revenue generated will be used to finance the 'YouStart' Initiative, road construction, develop the digital space of Ghana and particularly the development of basic education in the country amongst several others.