The days of family and friends getting appointments in the government of Nana Akufo-Addo, are far from over, as another family member in his 80s, has joined the eatery as board chairman of the Ghana Civil Aviation Authority (GCAA).
Capt. Powis Deakens Spencer, who was sworn into office by the Deputy Minister of Transport, Hassan Tampuli on behalf of the Minister of Transport, Kwaku Ofori Asiamah, is married to a direct sister of First Lady, Rebecca Akufo-Addo.
Capt. Powis Deakens Spencer, is also a father-in-law of Kelvin Okyere of Springfield Oil, which has been around Ghana National Petroleum Corporation (GNPC).
Mr. Okyere is married to Melanie Spencer, a niece of Rebecca Akufo-Addo.
Springfield is in a lawsuit at Ghana's Commercial Court '3' Division of the Accra High Court fighting the Italian energy giant ENI over the unitisation of their respective oil fields (Sankofa and Afina) in the interest of the country.
At the heart of the dispute are more than 500 million barrels of crude oil.
Springfield's legal tussle with Eni and its partner, Vitol Upstream Limited, was sparked by a directive for ex-Minister of Energy, John Peter Amewu, in 2020 to the companies to unitise their fields, located at the Cape Three Points, in accordance with Section 34(1) of the Petroleum (Exploration and Production) Act, 2016 (Act 919).
The reconstituted board of directors of the GCAA was on Tuesday, February 15, 2022 sworn into office at a brief ceremony held at its Headquarters at the Kotoka International Airport.
Others on the nine-member board include; Ing. Charles Kraikue, Mr. Kwasi Owusu-Ansah, Madam Joyce Opoku Boateng, and Alfred Obeng-Boateng, formerly of Bulk Oil Storage and Transport Company (BOST).
The rest are Mr. Ofori Kofi Newman, Madam Cecilia Kwofie, Madam Mabel AsiSagoe and Air Cdre Jacob Anum Ashrifie.
The Minister, charged the board members to be committed in ensuring that the GCAA continue to provide a safe and secure aviation industry in the Country.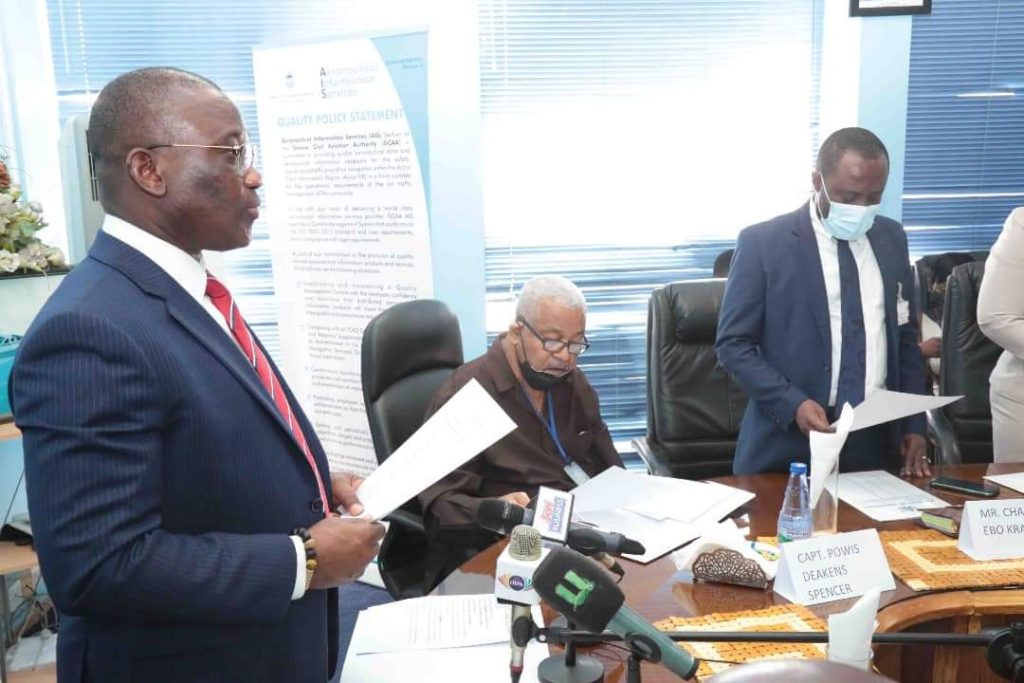 ''As a board, I charge you to be committed to promote to the greatest extent possible, a harmonized and inclusive approach to facilitate safe domestic and international air travels. This will enable us to work towards strengthening the confidence of the travelling public and safely rebuilding the Civil Aviation''.
He further indicated that the aviation Sector had been profoundly affected by the COVID-19 pandemic, which has greatly impacted negatively on the financial fortunes of the GCAA and urged the board to come up with innovative ideas to improve the situation.
On behalf of the Board, Captain Spencer, expressed the board's gratitude to President Nana Addo Dankwa Akufo-Addo for the confidence reposed in them, assuring the Minister that the board will work towards strengthening the policy direction of the Authority in ensuring that government's agenda of making Ghana an aviation hub was achieved.